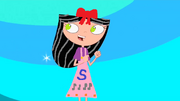 Sabriny is looks like Isabella Garcia-Shapiro. She has a black hair with Gray strikes on her hair, Lime Green eyes, a Purple shirt, a pink dress over the purple shirt, a red hair bow, flats. Her best friend is Flurrle, Grabby, Flindy, Travis. She is the Waterwade Girls, the other members are Abby, Selogy, Grechen, Pebblie, Melody and Molly.
Ad blocker interference detected!
Wikia is a free-to-use site that makes money from advertising. We have a modified experience for viewers using ad blockers

Wikia is not accessible if you've made further modifications. Remove the custom ad blocker rule(s) and the page will load as expected.