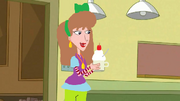 Mommie is looks like Linda Flynn. She has Brown hair with Green head band and Green head bow, Gold earrings and Gold necklace, She wearing a orphanige clothes and Lime green pants, Hot pink socks and Yellow shoes. She likes her family name Flurrle, Grabby, Flindy, Daddie, Grandpie, Grandmie, Grandpae, Grandmae and Shanna the Platypus.
Ad blocker interference detected!
Wikia is a free-to-use site that makes money from advertising. We have a modified experience for viewers using ad blockers

Wikia is not accessible if you've made further modifications. Remove the custom ad blocker rule(s) and the page will load as expected.